What's included in the pack
4 - Recreated YouTube page (Like, Subscribe, Comment, Pause Animations)
8 - Subscriber button Animation
6 - 3D Icon Animations
3 - Other Comment, Like Animations
What is the Recreated YouTube page effect?
The Recreated YouTube Page Effect visually replicates the appearance of a YouTube video page, providing a visual enhancement for your videos.
This effect includes four animations: Comment, Like, Subscribe, and Pause Video, divided into three video files: a transparent cursor video file, a playback control bar, and the YouTube page background.
Video editors can use it to give their videos the appearance of a YouTube page while your video plays in the video player, creating an engaging visual element for your videos.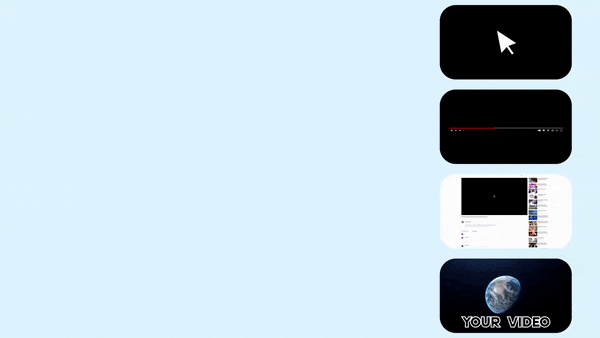 Recreated YouTube page effect in use
Easily enhance your videos by simply dragging and dropping our digital video effect pack into your editing software. No technical skills necessary.
Our video effect packs is good to go for your projects. You can start using the effects in your videos with ease, no setup required.
Our tutorial explains tasks like adjusting blending modes or using the 'Recreated YouTube Page Effect'. Ensuring you get the most out of our product.